Your cosmetic and family dentists in Paoli, PA
All our professionals at Paoli Family Dentistry maintain the highest levels of accreditation and pursue ongoing education to stay abreast of the latest trends in dentistry.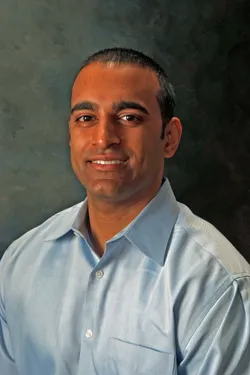 Rajeev R Gowda, DMD
Paoli, PA Cosmetic Dentist
Paoli Family Dentistry
Dr. Rajeev Gowda graduated with a B.S. in Biology from Ursinus College and attended Temple University School of Dentistry in 2000, where he received his degree in general dentistry. After receiving his degree in 2004, he completed a general practice residency at Bronx Lebanon Hospital Center and went on to practice dentistry in Maryland for one year prior to returning to Pennsylvania.
Dr. Gowda was a practicing partner in a successful and award winning dental practice in Quakertown for nine years. He is very passionate about dentistry and enjoys enhancing his knowledge by taking a diverse assortment of dental courses every year. Dr. Gowda is also an active member in a local dental study club.
Dr. Gowda is an unofficial foodie, eating out at the many restaurants the area has to offer; he also enjoys working out, and is an avid Philadelphia sports fan.
---
Andrew B, Gross, DMD
Paoli, PA Cosmetic Dentist
Paoli Family Dentistry
Dr. Andrew B Gross, a 1984 graduate of the University of Pennsylvania Dental School, has been practicing dentistry in the area for almost 35 years. He did two years of post-graduate training, finishing at the Medical College of Pennsylvania in 1986.
Dr. Gross loves to get to know his patients. He will always ask what is going on in both the patient's lives and that of their families. He adores children and loves making them comfortable at the dentist. He is an excellent listener who is easy to talk to. Dr. Gross loves his Philadelphia sports teams, especially the Eagles and the Sixers. He has been an Eagles season ticket holder since 1964! An avid runner, he has completed five marathons and has a sixth on the horizon. He loves to travel and often incorporates races into his travels. Dr. Gross loves his family and is hoping to be a grandfather someday soon!
Andrew B Gross DMD is committed to providing excellence in dentistry and is constantly updating his skills through continuing education. Living a healthy lifestyle and encouraging his patients to do the same is very important. He is looking forward to the next chapter of his professional life by transitioning his practice to Paoli Family Dentistry and being a part of the amazing team!
---
Dr. Julia LeCavalier
Paoli, PA Cosmetic Dentist
Paoli Family Dentistry
Dr. Julia LeCavalier, originally from Bucks County, PA, graduated from the University of Wisconsin- Madison where she earned her B.S. in Microbiology. She then moved back to Pennsylvania where she received her Doctor of Dental Medicine at Temple University-Kornberg School of Dentistry with Summa Cum Laude honors. While at Temple, she served as a member of the student council, was secretary of Alpha Omega Dental Fraternity, and traveled to Jamaica on a mission trip to provide needed dental care for the local population. To further her knowledge and skills, Dr. LeCavalier then attended a one-year general practice residency program at the Lehigh Valley Hospital in Allentown, PA. During this time, she completed a diverse set of procedures on medically compromised patients.
Dr. LeCavalier is a member of the American Dental Association and the Pennsylvania Dental Association. She is passionate about delivering the highest quality treatment while ensuring each of her patients are comfortable.
Dr. LeCavalier enjoys spending time with her family, friends and dog, Stella. She is an avid yogi and amateur chef, loves trying new restaurants, and can be found down the shore during summer weekends.